Blessing Special Blend was created specifically for ball fields and it is currently being used in Oklahoma and North Texas. In 2013, we introduced our Blessing Special Blend Pro.
Both are comprised of several different aggregates, all of which are completely natural. We use no chemicals or additives of any kind in our material, making it safe for your school athletes and others to play on. Our products are totally environmentally friendly.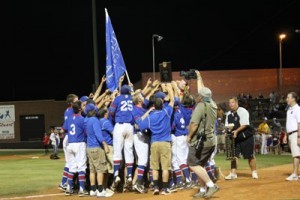 Blessing Special Blend and Pro are easy to apply to your ball fields. Maintenance is minimal and it handles water extremely well. The material settles well and the wind doesn't scatter it. The material in the product will not hurt your grass borders; in fact, it will help green your grass.
Blessing Special Blend is easy on your players as well. It is not abrasive making it more enjoyable for your players to play and slide on it.
What started out small, God has grown and increased with blessings. Faith, family values and dedicated service are the foundation principles we use to provide quality products and service our customers deserve. We are a family operated company and know the value of relationships.
We look forward to personally knowing our customers and working together to achieve success.
John 3:16
Jeremiah 29:11-13